has robbed myself of the opportunity to preserve all that is absolutely INSANE awesome about our 3rd born.

She is beautiful, and funny, and bright and absolutely, completely wildly...


She knows no bounds. She has a locked on, never miss radar for destruction.
We call her Sar-icane. I've decided the best way to cope is to keep a tally.
We will subtract her grand total from her college education fund.
Her total to this point:
*acer netbook: $299
*Samsung Gravity Cell Phone: $175
*Ikea Chaise Cover: $99
and the best yet, the most delicious bit of irony.
While I was actually out buying a replacement battery for our cordless phone, literally AT the store..
she managed to find the handset and drop it into a glass of water. Complete submersion. Total destruction.
So..
*Uniden cordless phone: $49
At this rate, she is going to be lucky if she can swing an online trade school.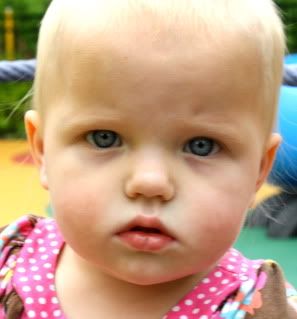 Good thing she is incredibly cute.
Because she may well kill me.